Cornish Lithium outlines the importance of establishing a secure and environmentally responsible supply of lithium for the UK as part of the transition to renewable energy sources.
Why?
Climate change is arguably the biggest challenge facing humanity – with its effects on people and the planet set to dwarf those due to the COVID-19 crisis and Brexit. One significant way to tackle climate change is through a complete overhaul of current fossil fuel-based energy systems, to one that is dominated by low carbon renewable energy sources instead.
However, this clean energy transition is going to be hugely mineral intensive. Low carbon technologies such as wind turbines, solar panels, and the batteries needed to store these energies, require a whole suite of raw materials to be extracted to meet their rising demand. The World Bank estimates that demand for battery metals will increase 500% by 200, from 2019 levels of production – including a 965% increase in demand for lithium (source: The World Bank, Minerals for Climate Action: The Mineral Intensity of the Clean Energy Transition).
This means that simply recycling the materials that are currently in circulation cannot meet this increasing demand, though the importance of establishing a more circular economy and designing products for second life use and recycling should not be underestimated. To put this into context, the World Bank estimate that humanity has extracted 550 million tons of copper over the past 5000 years. They now estimate that society needs to extract that same amount again over the next 25 years if it is to build enough low carbon technologies to tackle climate change and stay within the two-degree scenario for global warming.
This will clearly have a significant impact on the mining and raw materials industries: current production in mines can ramp up to meet some of this demand, but there is increasing imperative to find new sources for these raw materials. A significant benefit of mineral extraction is that metals are (theoretically) infinitely recyclable – unlike their fossil fuel counterparts, which are lost forever once they are extracted and burnt.
How?
Utilising new technologies to aid the exploration for and extraction of these mineral deposits is going to be key. Some of these new deposits will be found in more remote locations, with tools such as remote sensing and satellite imagery being used to vector in on prospective targets in far-flung locations. However, this increasing demand may also cause us to look for mineral deposits closer to home – in locations such as Europe, the UK and North America. These regions have rich resources of mineral deposits, but there has been very little mineral extraction in recent decades due to a preference for exporting the impacts which can be associated with their extraction to developing parts of the world with less choice.
The importance for the UK
Certain elements are going to play a key role in enabling the energy transition, so it is vital to establish a secure and environmentally responsible supply of them. One such critical element is lithium which is indispensable for all existing and near-term commercial electric vehicle battery technologies and is thus considered the "gateway element" to a zero-carbon future.  It is therefore essential that the UK supply chain focuses on sourcing lithium in a secure, sustainable manner to support its battery manufacturing and zero-carbon ambitions.  The automotive industry is hugely important to the UK, generating £82 billion for the UK economy each year. As the industry transitions to producing electric vehicles, the new Rules of Origin associated with the UK's Brexit deal with the EU mean that the UK must also start producing batteries and battery components onshore.
Current supply chains for battery materials including lithium are global, with a focus on China, who hold much of the refining capacity to turn mineral products into battery quality chemicals. Alongside the Rules of Origin associated with Brexit, there are geopolitical risks associated with being reliant on just one country for the supply of these chemicals for the UK and EU battery industries.
Li4UK: Securing a Domestic Supply of Lithium for the UK
Cornish Lithium has recently concluded the Li4UK project: a Faraday Battery Challenge-funded study assessing the possibility of securing a domestic supply of lithium for the UK automotive industry. The project consortium comprised mining consultants Wardell Armstrong International Limited (WAI), The Natural History Museum (NHM) and Cornish Lithium Ltd (CLL). At the end of the project, the team successfully produced lithium carbonate from two UK sources – one from Cornish Lithium's Trelavour project site in Cornwall and another from Scotland. High purity lithium carbonate is a raw material for lithium-ion battery cells, such as those used in electric vehicles.
This breakthrough was achieved following an 18-month project which involved:
A scoping study covering sites hosting potentially suitable lithium mineralisation in hard rock and geothermal waters across the whole of the UK.
Field sample collection by NHM and CLL (assisted by Camborne School of Mines) from England, Wales, Scotland and Northern Ireland.
Characterisation and analysis of samples by NHM.
Evaluation and mineral processing of hard rock samples and production of two separate lithium carbonate concentrates at the WAI Mineral Processing Laboratory near Truro.
Assay by the Core Research Laboratories at NHM of the two lithium carbonate products to confirm their purity as near battery grade.
Reimar Seltmann, Research Leader at NHM, said: "These two samples represent the first known production of lithium carbonate from UK hard rock sources and hence are of great importance for the UK economy. The Consortium believes that the positive results from this project will accelerate the development of a domestic supply of battery quality lithium chemicals for the UK automotive and battery industries, and the consequent economic value that such industries would generate."
Ben Simpson, Technical Director for Mineral Processing at WAI, said: "The development of lithium processing technologies at the WAI labs as part of the Li4UK project has been a huge stepping-stone for the electric vehicle and battery manufacturing industries in the UK. It was crucial for the UK to start looking at domestic sources of battery materials and production of lithium-ion batteries, from mine to market; what has been achieved here puts the UK at the forefront of developments in the European battery industry."
Cornish Lithium CEO, Jeremy Wrathall, said: "Given the potential that has been established by this project to exploit lithium resources in Cornwall, it is possible that the UK could produce a significant percentage of its lithium demand domestically; thus creating a vertically-integrated supply chain and generating additional value for the UK economy.  Cornwall also provides access to renewable energy from solar and wind, and offers established infrastructure such as rail, road and port facilities – which represent a considerable advantage over other European lithium projects."
An important conclusion of this study is that Cornwall was identified as the most promising area for a future lithium extraction and production industry. Cornwall currently ranks as one of the most economically-deprived regions in Europe and it is therefore expected that the development of lithium resources in Cornwall will represent a significant boost to economic activity and regional productivity.  The results of the Li4UK study could be instrumental in delivering potentially transformative industrial activity to the region.
The approach taken during the Li4UK project was guided by the experience of consortium members in various lithium-related disciplines, including experience gained during the EU H2020-funded project 'FAME' which developed geometallurgical assessment criteria, and studied processing technologies for a number of different types of lithium ores from Europe.  This was augmented by technical and business skills from other members of the consortium such as Cornish Lithium, whose team includes highly experienced mining and investment banking executives.
The participants in this study are delighted to have provided support to the UK Government's green initiatives, such as the Road to Zero Strategy, by demonstrating the possibility of UK-sourced lithium for the domestic automotive and battery industries.
Minimising the impact
The need to build low carbon technologies to combat climate change is resulting in a significant rise in the extraction of raw materials. This means that it is increasingly important that these raw materials are extracted in the most environmentally responsible, low carbon manner possible, otherwise this could mitigate any of the positive impacts associated with these technologies replacing fossil fuels. The use of Lifecycle Assessments ('LCAs') can be a useful tool for comparing possible production routes for raw materials, and the impacts associated with them.
Equally, companies must embrace new technologies which allow more efficient extraction of critical raw materials, and minimise waste at the same time. Cornish Lithium is pioneering the low carbon extraction of lithium from hard rock mica minerals, and from within lithium-enriched geothermal waters in Cornwall, South West England. It is the advent of new extraction technologies which have helped to 'unlock' these mineral deposits, which were previously considered unconventional.
Lithium extraction from geothermal waters
Recent advances in lithium extraction technology are enabling the economically viable extraction of lithium directly from fluids, in the concentrations historically present in Cornwall's hot springs. Cornish Lithium will be using Direct Lithium Extraction (DLE) technology to selectively remove the lithium compounds from the geothermal waters, and believes this is the most environmentally responsible method of extracting lithium from solution. Various companies have developed their own proprietary extraction technologies, and Cornish Lithium is in discussion with potential partners to work out which may be best suited to extract lithium from Cornish geothermal waters. These technologies are often based around selective membranes, or ion absorption, to allow the selective removal of only lithium compounds from the waters. Ultimately, Cornish Lithium aims to produce a battery quality lithium hydroxide product from the geothermal waters.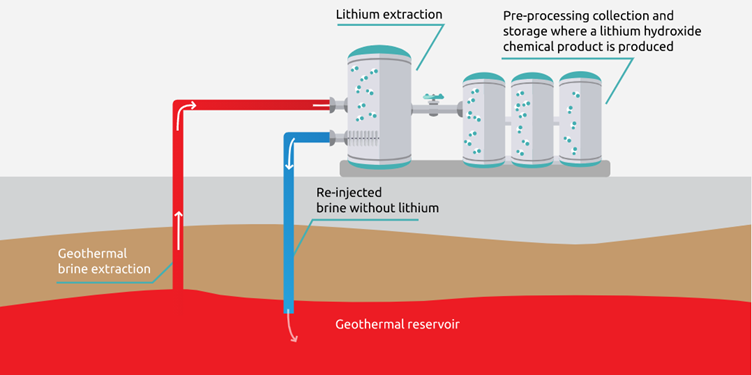 Cornish Lithium is also evaluating the potential to utilise the heat energy contained within these geothermal waters: co-production of lithium with geothermal heat and power represents an exciting opportunity for low (or even net zero) carbon production of lithium.
Lithium extraction from mica minerals
Current lithium extraction from hard rock sources globally tends to be focussed on a mineral called spodumene. There are high carbon impacts associated with producing lithium from this mineral as it must be heated to very high temperatures before the lithium can be leached out, which relies on the use of fossil fuels.
In Cornwall, lithium is present within a different family of minerals within the granite rock: mica minerals. Cornish Lithium has acquired a technology licence from Lepidico which provides the company with an innovative and environmentally responsible metallurgical processing solution for its hard rock lithium Trelavour project. The company believes that this work will accelerate domestic production of battery quality lithium chemicals for the UK automotive and battery industry as well as generating a significant number of skilled jobs in the St Austell area of Cornwall.
The licence to the L-Max® and LOH-Max® technologies will allow development of the low-carbon extraction of lithium from zinnwaldite and polylithionite mica ores in the St Austell region. Work so far has indicated the potential of this technology to produce battery-grade lithium in Cornwall without the need for further refining, thus offering a complete on-site solution. The licence is exclusive to Cornish Lithium and covers the entire St Austell Granite region, an area of approximately 93km2. Importantly, Cornish Lithium has also entered into a strategic collaboration agreement with Lepidico to further develop the L-Max® and LOH-Max® technologies for lithium extraction from zinnwaldite and polylithionite mica mineralisation from the St Austell region of Cornwall.
Summary
It is vitally important for the UK to build a secure and environmentally responsible supply of those critical raw materials which will support the road to Net Zero by 2050. Lithium is a key element that will enable this energy transition, and there is the potential to produce it domestically. Coupled with the Brexit Rules of Origin, and the short timelines associated with delivering the UK battery manufacturing needed to support the UK automotive industry, there really is a need for UK Government to support and prioritise projects which can help to deliver these initiatives.